Bismarck is located between Danville and Hoopeston, in Vermilion County. Our county hosts many festivals and events. We provide a large variety of shopping malls, entertainment, restaurants and sporting events and our outstanding recreation area.
Bismarck Lion's Club Park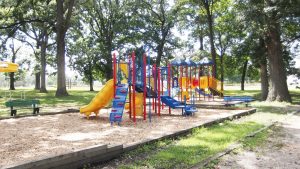 Located on the East side of Bismarck, Illinois you'll find the beautiful Bismarck Lion's Club Park.  The park can be enjoyed all year round by visitors of all ages.
From the football, baseball and soccer fields to the playground equipment, there's something for everyone. Whether you're in the mood for a game of tag or a relaxing picnic under the grand trees, you're sure to have a wonderful time at Bismarck Lion's Club Park.
Recreation & Wildlife
Bismarck is within a few miles of east-Central Illinois finest recreation area, including the North Fork and Middle Fork of the Vermilion River system.
A bottomland forest of sycamores and silver maples and upland timbers of stately oaks, hickories, beeches, sugar maples and dogwoods are an endless source of fascination for nature lovers and habitat for a wide variety of wildlife. The variety, number and mix of hardwood species present in Kickapoo's upland and bottomland forests translate into a firestorm of fall color each autumn. In spring, the woods explode with a vibrant display of colorful wildflowers, including Jack-in-the-pulpits, violets, bluebells, sweet Williams, spring beauties, Dutchman's-breeches, wake-robins and nodding trilliums. In the bottomlands, birders may spot kingfishers or pileated woodpeckers flitting among the stately trees. Other species that may be glimpsed include red-winged blackbirds, least bitterns, grebes, great blue herons, warblers, vireos, a variety of songbirds, and even wild turkeys. A birding check list available at the park office lists more than 100 species documented at the park. A variety of animal life can be seen, including white-tailed deer, squirrel, raccoon, cottontail rabbit, muskrat, mink and ground squirrels.
Fishing, Boating and Canoeing – The North Fork river flows through Bismarck to Danville's Lake Vermilion, the largest area lake with boating and fishing.
Middle Fork State Fish and Wildlife Area offers hunting, fishing, canoeing, camping and picnicking opportunities, along with nearly 35 miles of equestrian and hiking trails. Middle Fork Woods Nature Preserve, dedicated in 1974, is the only known Illinois location of the silvery salamander. The preserve's 83 acres, containing such upland forest species as oak, basswood, maple, beech and hickory, can be found north of the Cypress day use area.
Kickapoo State Recreation Area – If you're a hiker, a wildflower enthusiast or a lover of wildlife, Kickapoo State Park is a prime year-round area for you to pursue your passion. The Middle Fork of the Vermilion River, a federal and state designated Scenic River, runs through the park.
Kickapoo has 22 smaller lakes and access to the Middle Fork River, Kickapoo is known for the opportunities it provides for water-based outdoor activities. Anglers find excellent fishing for largemouth and smallmouth bass, channel catfish, bluegill, crappie and redear sunfish. Especially popular are the annual fall and spring stockings of rainbow trout, which provide an unusual opportunity for central Illinois anglers to fish for catchable-size trout. There are 12 launching ramps on nine of Kickapoo's lakes. Boat and canoe rental is available for Clear Pond. Only electric motors are allowed on the park's lakes.
Kennekuk County Park features scenic drives, hiking and fishing along the North River and also in the areas second largest lake, Lake Mingo.